OVERVIEW
The ONV-IPS33016M is a full gigabit L2+ managed industrial Ethernet switch independently developed by ONV. It has 16*10/100/1000Base-T RJ45 ports. Each port can support wire-speed forwarding.
The ONV-IPS33016M has L2+ network management function, support IPV4/IPV6 management, static route full line-rate forwarding, security protection mechanism, ACL/QoS policy and rich VLAN functions, and is easy to manage and maintain. Support multiple network redundancy protocols STP/RSTP/MSTP (<50ms) and (ITU-T G.8032) ERPS(<20ms) to improve link backup and network reliability. When the one-way network fails, communication can be quickly restored to ensure important Uninterrupted communication for applications. According to the actual application requirements, you can configure multiple application services such as port traffic control, VLAN division, and SNMP through the Web network management mode. Industrial switches meet the needs of the industrial Ethernet application environment. It is suitable for intelligent transportation, rail transit, power industry, mining, petroleum, shipping, metallurgy, and green energy construction and other industrial scenarios to form a cost-effective, stable, and reliable network.
FEATURE
Full Gigabit access, wire-speed transmission
◇ Support line-speed full Gigabit Ethernet port, which facilitates flexible networking of users and meets networking requirements in various scenarios.
◇ Support non-blocking wire-speed forwarding.
◇ Support full-duplex based on IEEE802.3x and half-duplex based on backpressure.
Security
◇ 802.1X authentication.
◇ Port isolation,Storm control.
◇ IP-MAC-VLAN-Port binding.
Strong business processing capability
◇ ERPS/STP/RSTP/MSTP.
◇ Static and dynamic aggregation.
◇ IGMP V1/V2 and IGMP Snooping.
◇ IEEE802.1Q VLAN, flexible VLAN division, Voice VLAN, and QinQ configuration.
◇ QoS, Priority mode based on 802.1P, Port & DSCP, queue scheduling algorithm including EQU, SP, WRR & SP+WRR.
◇ ALC, filter data packet through configuring matching rules, processing operation & time permission, and provide flexible and safe access control.
Stable and reliable
◇ CCC,CE, FCC, RoHS.
◇ Low power consumption, no fan, aluminum shell.
◇ The user-friendly panel, it can show the device status through the LED indicator of PWR, SYS, Link, L/A.
◇ The DIN rail industrial switch series products do not have a power supply by default and need to be purchased. Users can purchase a power supply independently developed by ONV.
Easy operation and maintenance management
◇ HTTPS, SSLV3, and SSHV1/V2.
◇ RMON, system log, LLDP, and port traffic statistics.
◇ CPU monitoring, memory monitoring, Ping test, and cable diagnose.
◇ Web management, CLI command line (Console, Telnet), SNMP (V1/V2/V3).
DIMENSION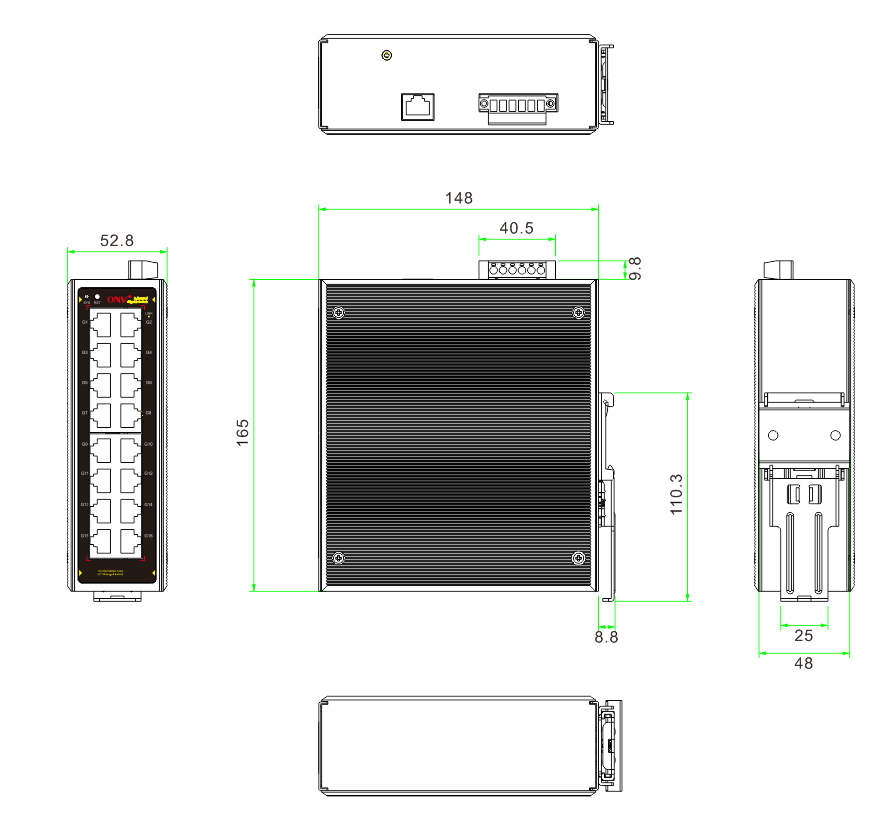 ORDERING INFORMATION
Model

Description

Recommended Power Supply

ONV-IPS33016M

L2+ managed industrial Ethernet switch with 16* 10/100/1000M RJ45 ports. It can support DC dual power supply input and DIN rail mounting.

24W

Note: The DIN rail industrial switch series products are not equipped with power supply by default and need to be purchased. Please refer to the accessory product information.
PACKING LIST
PACKING LIST

CONTENT

QTY

UNIT

16-port full gigabit managed industrial Ethernet switch

1

SET

RJ45-DB9 Line

1

PC

User Guide

1

PC

Warranty Card

1

PC