OVERVIEW
The ONV-IPS53064FM is a full Gigabit cloud managed industrial Ethernet fiber switch independently developed by ONV. It has 4*10/100/1000Base-T adaptive RJ45 ports and 2*100/1000Base-X uplink SFP fiber slot ports. Each port can support wire-speed forwarding.
The ONV-IPS53064FM can support Web management, ONV-NMS management platform and mobile APP cloud platform management, which can realize functions such as security network topology management, link aggregation, port management, port mirroring and remote operation and maintenance. The switch has high reliability, easy installation and maintenance, fast switching function, and multiple access ports, which are suitable for access to LAN devices of various scales. The ONV-IPS53064FM switch follows the design and materials of industrial products. The shell is made of aluminum alloy to enhance heat dissipation, and has excellent adaptability to industrial site environment, The protection level is IP40, supports dual redundant power supply, MTBF up to 35 years, and 5 years warranty. It is suitable for intelligent transportation, rail transportation, electric power industry, mining, petroleum, shipping, metallurgy and green energy construction and other industrial scenarios to build an economical, efficient, stable and reliable communication network.
FEATURE
Gigabit access, SFP fiber port uplink
◇ Support non-blocking wire-speed forwarding.
◇ Support full-duplex based on IEEE802.3x and half-duplex based on Backpressure.
◇ Support Gigabit Ethernet port and Gigabit SFP port combination, which enables users to flexibly build networking to meet the needs of various scenarios.
Extreme optimization, minimalist application
◇ Real-time fault alarm and fault location.
◇ Remote upgrade, remote restart, and factory reset.
◇ Local platform, cloud platform and mobile APP operation and maintenance management.
◇ Visualized network topology management, VLAN division, QoS, link aggregation, ring network management, port mirroring, port control and bandwidth management.
◇ According to industry application requirements, complex network management configurations are discarded, practical network management functions are retained, and network deployment and centralized operation and maintenance can be quickly realized through the operation and maintenance platform.
Stable and reliable
◇ CCC, CE, FCC, RoHS.
◇ The user-friendly panel can show the device status through the LED indicator of PWR, SYS, Link, L/A.
◇ Low power consumption, No fan, aluminum shell, excellent heat dissipation to ensure the stable operation of the switch.
DIMENSION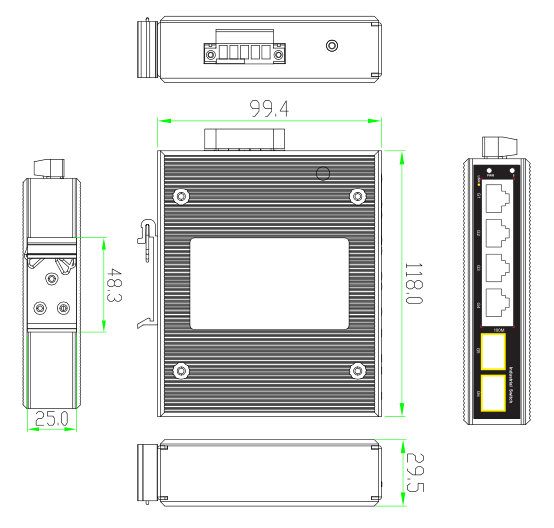 ORDERING INFORMATION
Model

Description

Recommended Power Supply

ONV-IPS53064FM

L2 managed industrial Ethernet fiber switch with 4*10/100/1000M RJ45 ports and 2*100/1000M SFP ports. It can support redundant dual DC power input and DIN rail mounting.

12W/24W

Note: Industrial Ethernet switch does not included the SFP optical module and power supply.
PACKING LIST
Packing List

Content

Qty

Unit

6-port full gigabit cloud managed industrial switch

1

SET

User Guide

1

PC

Warranty Card

1

PC
OPTICAL MODULE
Product

Model

Description

Unit

1.25G

Optical Module

2630-G

Industrial SFP optical module, 1.25G, multi-mode dual fiber 850nm, transmission distance: 550m, LC interface, support DDM function, support hot plug and pull.

PC

2632-G

Industrial SFP optical module, 1.25G, single-mode dual fiber 1310nm, transmission distance: 20km, LC interface, support DDM function, support hot plug and pull.

PC

2612-T-G

Industrial SFP optical module, 1.25G, single-mode single fiber TX1310nm/ RX1550nm, transmission distance: 20km, LC interface, support DDM function, support hot plug and pull.

PC

2613-R-G

Industrial SFP optical module, 1.25G, single-mode single fiber TX1550nm/ RX1310nm, transmission distance: 20km, LC interface, support DDM function, support hot plug and pull.

PC

2612-T-G-SC

Industrial SFP optical module, 1.25G, single-mode single fiber TX1310nm/ RX1550nm, transmission distance: 20km, SC interface, support DDM function, support hot plug and pull.

PC

2613-R-G-SC

Industrial SFP optical module, 1.25G, single-mode single fiber TX1550nm/ RX1310nm, transmission distance: 20km, SC interface, support DDM function, support hot plug and pull.

PC

Power Module

2633

1.25G SFP optical module transfers to 10/100/1000M RJ45 port.

PC
POWER SUPPLY
Product

Model

Description

Unit

12W DIN Rail Industrial Power Supply

GWS-DP12-12

Din Rail 12W single set of output power supply

Input Voltage: AC100V~240V 50-60H, 0.5A

Output Voltage: DC12V, 1A

Operation Temperature: -40℃ to +70℃

PC

24W DIN Rail Industrial Power Supply

GWS-DP24-24

Din Rail 24W single set of output power supply

Input Voltage: AC100V~240V 50-60H, 0.65A

Output Voltage: DC24V, 1.0A

Operation Temperature: -40℃ to +70℃

PC
RELATED PRODUCT
| | |
| --- | --- |
| Model | Description |
| ONV-IPS53054FM | L2 managed industrial Ethernet fiber switch with 4*10/100/1000M RJ45 ports and 1*100/1000M SFP port. It can support redundant dual DC power input and DIN rail mounting. |
| ONV-IPS53064FGM | L2 managed industrial Ethernet fiber switch with 5*10/100/1000M RJ45 ports and 1*100/1000M SFP port. It can support redundant dual DC power input and DIN rail mounting. |
| ONV-IPS53008FM | L2 managed industrial Ethernet switch with 8*10/100/1000M RJ45 ports. It can support redundant dual DC power input and DIN rail mounting. |
| ONV-IPS53108FM | L2 managed industrial Ethernet fiber switch with 8*10/100/1000M RJ45 ports and 2*100/1000M SFP ports. It can support redundant dual DC power input and DIN rail mounting. |