OVERVIEW
ONV-CPE300P wireless bridge is a high-performance, high-stability 2.4GHz multi-purpose wireless transmission product developed by ONV. The wireless transmission rate is up to 300Mbps, and the built-in 8dBi high-gain directional antenna is adopted, so that the distance between receiving and transmitting can reach 1KM. ONV-CPE300P wireless bridge supports relay, which can realize long-distance wireless signal transmission, in addition, it also supports gateway and AP functions, which is suitable for wireless networking and wireless coverage. It adopts dust-proof, waterproof, and lightning-proof housing and antenna, which can work stably for a long time in various outdoor environments. It supports DC12V power supply/48V POE main/standby dual power supply and remote reset functions for easy management. It can realize point-to-point, point-to-multi-point, and outdoor wireless coverage and other applications to meet the wireless transmission coverage requirements of elevator monitoring, rural areas, factory districts, scenic spots, squares, and other indoor and outdoor environments.
FEATURE
High gain antenna, 300M high-speed transmission
◇ Adopt 802.11n MIMO wireless technology, provide 300Mbps wireless transmission rate.
◇ Built-in high gain dual-polarized antenna, the signal is stronger and the transmission is farther.
Engineering-level hardware design, professional outdoor transmission
◇ Qualcomm high-performance enterprise-level chips, industrial-grade materials, high-speed and stable anti-interference, meet the needs of various installation environments.
◇ Industrial-grade integrated molding shell, with IP61 dustproof, waterproof, adaptable to various harsh environments such as wind and sun, rain, snow, and freezing, and can work normally and stably even in extremely high and low-temperature environments (-40°C~70°C).
Easy to install and easy to maintain
◇ The factory settings are free of matching. Support one-key quick digital pairing, easy and efficient.
◇ Point-to-point, point-to-multi-point data transmission, centralized management.
◇ The installation is simple and convenient, and the signal strength is intelligently indicated.
DIMENSION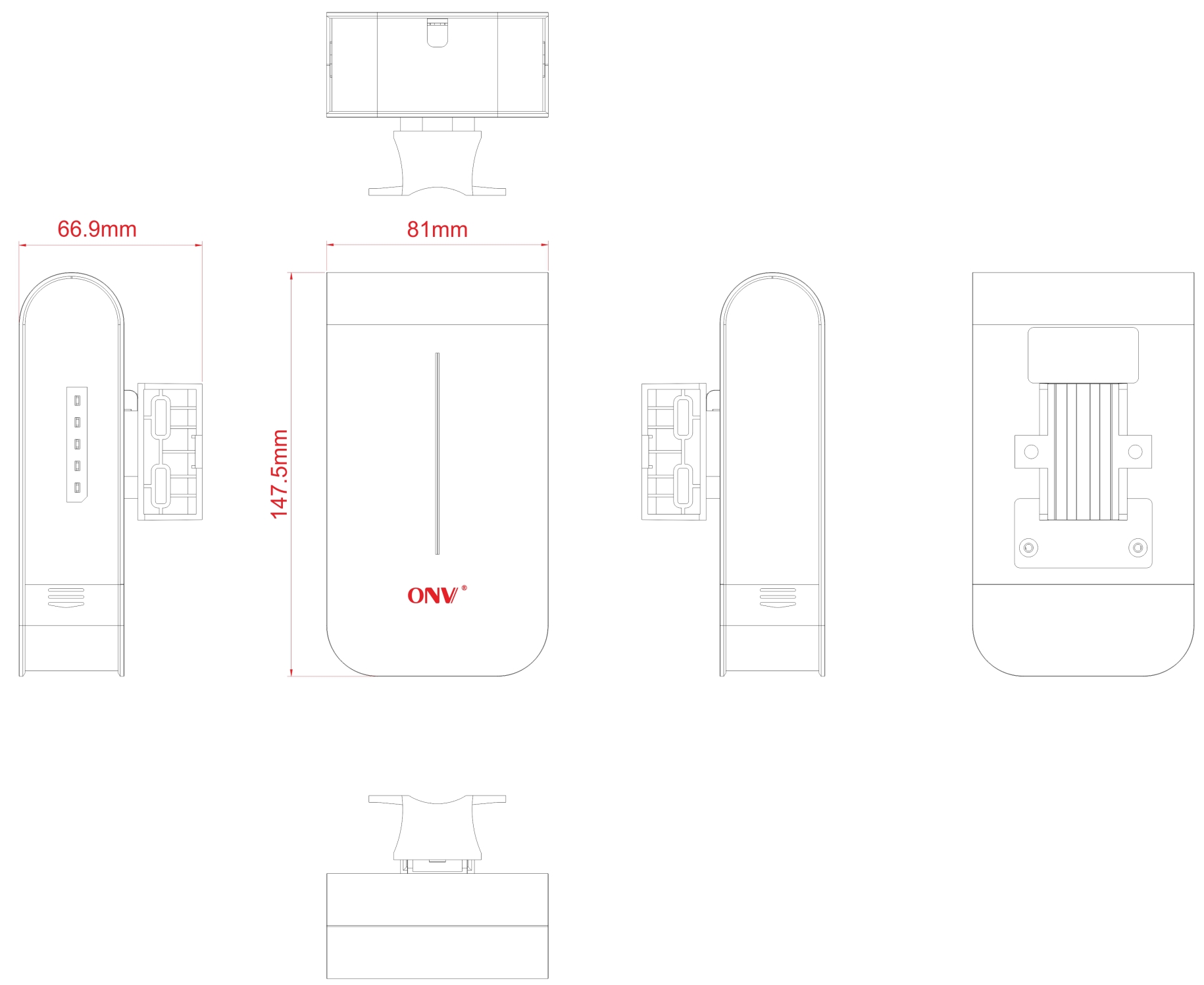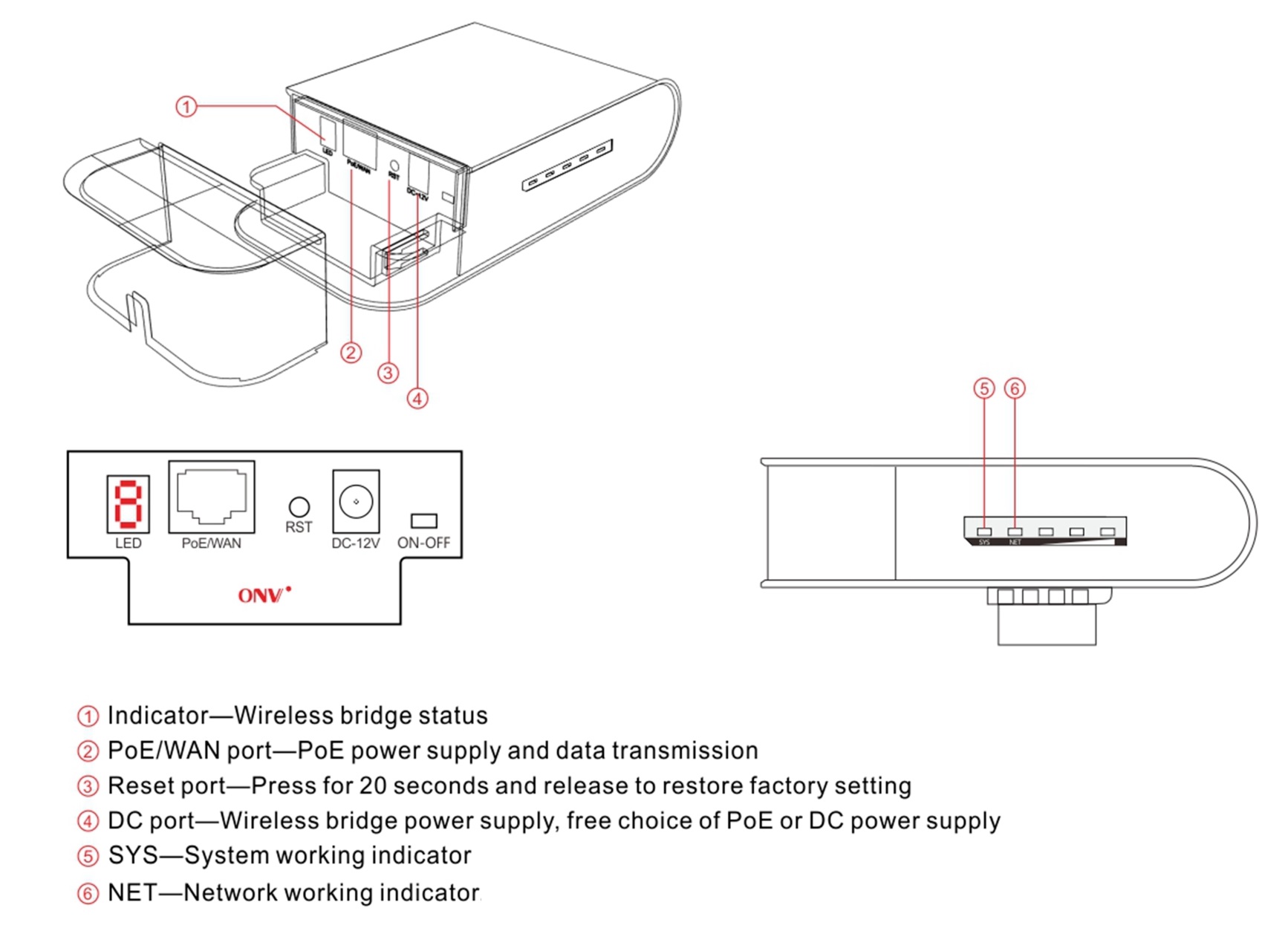 ORDERING INFORMATION
Model

Description

Recommended Power Supply

ONV-CPE300P

2.4G/300Mbps PoE wireless bridge can support 1*10/100M 48VDC passive PoE power supply, transmission distance 1km, pole-mounted installation.

48VDC POE power supply

Note: The wireless bridge does not include 48VDC POE power supply and needs to be purchased separately.
PACKING LIST
PACKING LIST

CONTENT

QTY

UNIT

2.4G/300Mbps PoE wireless bridge

1

Pair

Double head RJ45 network cable

2

PC

Hanging ear and stainless steel band

1

Pair

User Guide

1

PC

Warranty Card

1

PC